Clockwerke Sound Studios Maps
1328 Linda Street, Rocky River, Ohio 44116
(440) 331-2210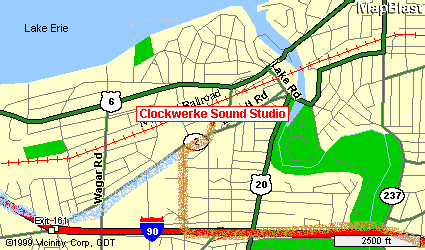 From theEast (downtown Cleveland):
1) Take I 90 West approx.12 miles to exit 162, Rocky River, Hilliard Road exit.
2) Stay in right lane down the exit ramp. At end of ramp turn right onto Westway Blvd.
3) Follow Westway 500 feet to stop light. turn right onto Lakeview Rd.
4) Follow Lakeview 3/4mile to Detroit Road. Turn right onto Detroit.
5) Follow Detroit Road 500 feet to 2nd stop light which is our street- Linda Street. you will see a Mitchel's Iice Cream store at the corner of Linda & Detroit.
6) Turn left onto Linda Street. Clockwerke is 200 feet down Llinda Street on the left.
From the West:
1) Follow I90 to exit 161, Detroit Road (Rt 254 / Rt. 2).
2) At end of exit ramp turn left onto Detroit and follow it approx. 2 miles. Linda Street will be on the left and has a stop light. Look for the Mitchel's Ice Cream store at the corner of Linda and Detroit.
3) Turn left on Linda, Clockwerke is 200 feet down Linda street on the left side.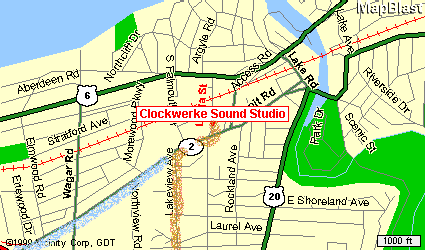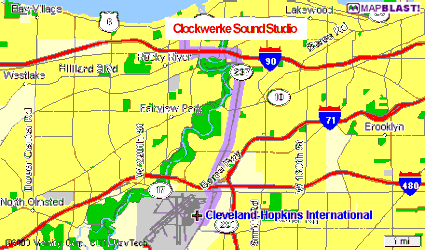 From theSouth (I 71, and near Hopkins Intl. airport):
1) Head North on I 71. Exit at W 150th St. and turn left onto W 150th st.
2) Stay on W 150th St. heading North .The name will change to Warren Rd.
3) After you cross Lorain Road, follow Warren Rd until you see I 90 entrance signs.
4) Follow signs (left turn) to enter I 90 heading West. Stay on I90 for approx 1-2 miles and exit at exit 162, Rocky River, Hilliard Road exit.
5) Follow the 1st paragraph above (from downtown Cleveland) for the remainder of the directions. The map immediately above shows an overview of the route.